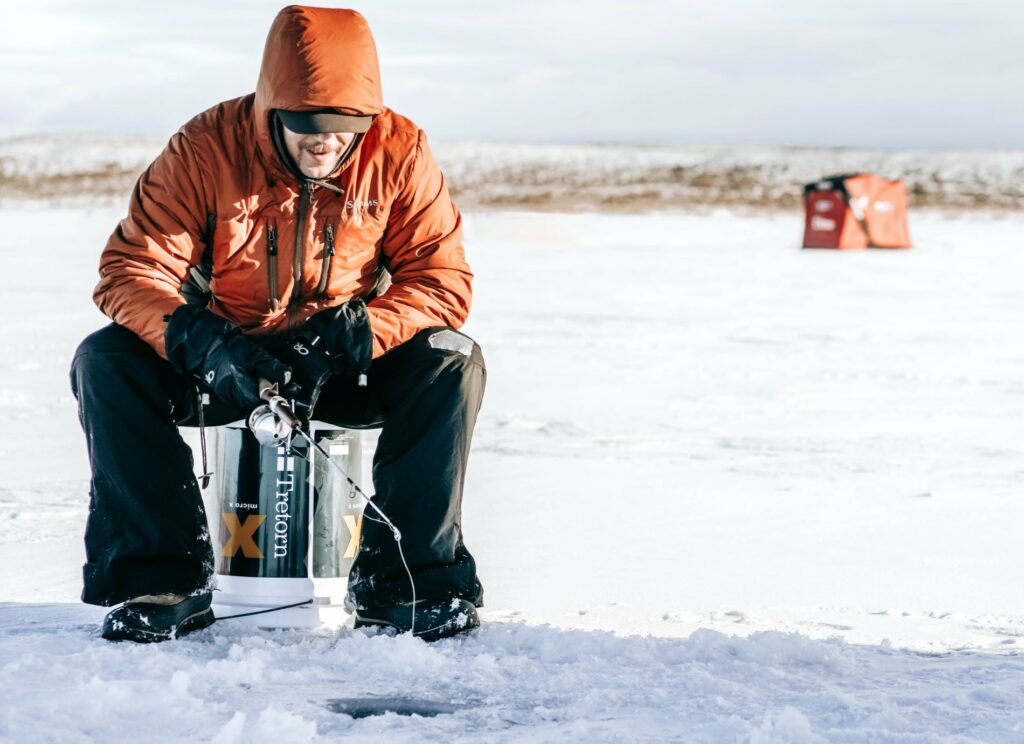 While I have previously provided an Intro to Great Fishing Deals, you can also earn Ice Fishing Cashback and enjoy the pastime for less! Summer fishing is fantastic since the air is pleasant and the lake is tranquil. However, other anglers can't wait for winter to arrive for the lake to freeze solid. Many individuals like ice fishing, which extends the fishing season to year-round enjoyment. Ice fishing is also a fantastic family sport.
Family Ice Fishing
The fact that ice fishing isn't simply about catching fish is one of the reasons why it's so popular with families. Ice fishing is best described as getting outside and breathing fresh, clean air while having fun. While out on the ice, you'll see a lot of smiles, giggles, and kids playing in the snow. Even people who despise fishing become addicted to this winter hobby for a variety of reasons. Here are some things to bear in mind if you want to go ice fishing with your family.
Ice fishing is usually a whole day's worth of fun. Get out on the ice as soon as possible after breakfast to take advantage of the best hours. It's better to be ready with your lines in the water by the time the sun starts to rise if you want to bring home a bunch of perch for a supper. Depending on the species, fish bite early in the morning or late in the afternoon. Instead of hours spent reeling in the fish, the time in between is frequently spent by families having fun.
Supplies Beyond Basic Fishing Gear
Because the fresh air and activities will whet appetites, bring a good lunch and some snacks. A variety of finger meals and enough of water to drink will suffice. However, you should avoid bringing beer because alcohol and cold don't combine well. The chill in the air makes it difficult to feel the effects of alcohol, which can drop your body temperature. You might end up driving too far before recognizing you've had one too many drinks to drive safely home.
It's critical to stay warm while ice fishing. Because the open-air area is likely to have a strong breeze, windproof clothes should be your first priority. Adding layers underneath warm sweaters will trap the heat and keep you warm. The best boots and mittens are ones that are made of strong materials and are waterproof. After all, ice fishing entails splashing around in frigid water!
A thick hat and sunglasses are two more items you'll need. The bright sunlight bounces off the white snow and ice, causing your eyesight and vision to suffer. Many ice anglers who don't use sunglasses return home and discover they haven't been able to see clearly for more than half an hour! Because the sun is so powerful, and the reflection off the snow magnifies its effects, it's easy to get sunburned, so wear plenty of sunscreen to avoid red cheeks.
Ice Fishing Outfitters
Choose an outfitter that will offer you with a cabin, a stove, lines, minnows, and a hole-drilling service if you're new to ice fishing. These outfitters want you to have the best time possible, so they'll provide you with everything you'll need for hours of fun. Employees will also be happy to answer any questions you may have and provide fishing advice. Respect the people around you once you've established yourself. Enjoy yourself, but don't disturb the peace and quiet of other fishers by blasting a radio. Also, don't put trash on the ice and be environmentally conscious. Some fishermen use antifreeze to keep ice from forming in their holes, however antifreeze is hazardous, and this is an irresponsible technique. Keep your holes from freezing over by using the metal spoon provided.
Final Thoughts for Today
Furthermore, if you aren't planning on eating the fish you capture, handle them gently and practice catch and release. Fish have a modest growth rate and reproduction rate, which indicates that irresponsible or abusive behavior might have a negative impact on fish populations.
Finally, before you become exhausted, pack your belongings and return home. When you get into a heated car after being outside for a few hours in frigid temperatures, it will strike you like a ton of bricks. You'll most likely be fatigued by the time you reach home. Ordering pizza for supper after a day of ice fishing can be a godsend! I hope that you can explore Ice Fishing Cashback and other Fishing Deals and Discounts!