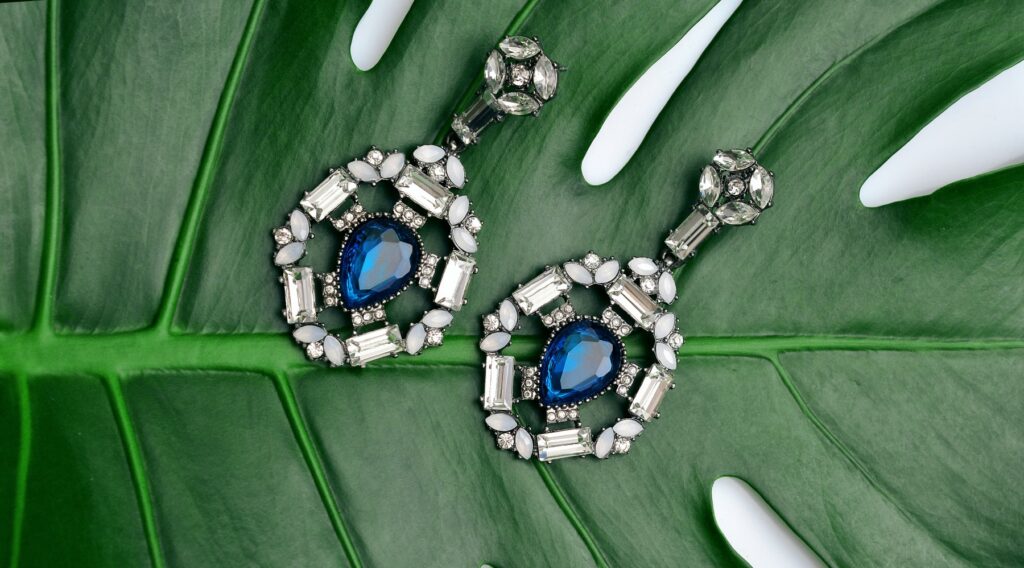 There are so many types of jewelry available, and it can be difficult to not only understand your options, but to learn how to get high-quality jewelry at a reasonable price.  In recent years, there has been a significant shift to online jewelry shopping, and you can earn jewelry cashback with many purchases, which helps you save regardless of the price point you are interested in.
Three of the most popular stones included in jewelry today include Emeralds, Sapphire, and Diamonds.
The four basic parameters used to grade emeralds and other colored gemstones are color, clarity, cut, and carat weight. To be considered a top gemstone, an emerald must have both a pure lush green hue and a high degree of transparency, as described below. Emerald is the traditional birthstone for May, as well as the traditional gemstone for the astrological sign of Cancer. As a result, emerald green is a well-known color that can be found in a variety of settings, including as a raw emerald on rare occasions, but more frequently as a men's emerald ring, emerald bracelet, or even an emerald greed dress.
Sapphire is a precious gemstone composed primarily of aluminum oxide with trace amounts of iron, titanium, chromium, vanadium, and magnesium. Yellow, purple, orange, and green are just a few of the colors available in natural sapphires that you might not expect. Due to its particular constitution and chemical capabilities, sapphires are also used in non-ornamental applications such as high-durability windows, wristwatch crystals and movement bearings, infrared optical components, and ultra-thin electronic wafers. You may have never seen a raw sapphire, let alone the more even rarer varieties such as orange sapphire, white sapphire, or peach sapphire. That said, you've most likely seen it in jewelry, as well as in household and business settings. In a busy setting, sapphire earrings stand out, and white sapphire rings can dazzle like diamonds.
Speaking of diamonds, you've probably heard that phrase that diamonds are a girl's best friend, but did you know that most natural diamonds available for purchase are between 1 billion and 3.5 billion years old? While that in itself is stunning, there is much more to be learned about diamonds. Diamonds have been used in a wide range of applications due to their exceptional physical qualities. It has the highest heat conductivity and sound velocity, as well as being the hardest and least compressible substance known. It has a low coefficient of thermal expansion and great optical dispersion, as well as low adhesion and friction. It has a wide spectrum of optical transparency, from far infrared to deep ultraviolet. Diamond nails and diamond teeth have been popular in recent years, a major refinement from raw diamonds or their conventional use in rings, necklaces, earrings, and bracelets. Saffron diamonds and amber diamonds are two rarer varieties of the stone.
Now that we've covered just a fraction of precious stones available today, how familiar are you with famous jewelry designers? Tiffany & Co., David Yurman, Bvlgari, Cartier, Harry Winston, Chopard, David Webb, Martin Katz, and others are just a few examples of well-known jewelry brands. Harry Winston is recognized as the "King of Diamonds," and his engagement rings and watches are highly sought after. In addition to its iconic jewelry, Cartier is known for a wide range of products, including watches, sunglasses, and more. Cartier Bracelet, Cartier Buffs, and Cartier Necklace are just a few of their well-known items. Chopard is known with its "Happy Diamonds," and while their red carpet dominance may make them appear intimidating, the company has made a determined effort in recent years to diversify its product line to include simpler bangles and earrings. A Chopard Ring or Chopard Watch always stands out among other spectacular options. While these are all high-end jewelry designers and producers, there are many more affordable options available, including unique options such as Belk Jewelry, Shein Jewelry, Star Wars Jewelry, a knife necklace, Kay Jewelers bracelets, or anime earrings, amongst thousands of others.
You don't need to find jewelry stores in the mall when the best jewelry deals are online!